Join the Simple September Challenge and Run More
It has been awhile since we've hosted a challenge. Call it the post-marathon blues, call it a busy summer. Regardless, a September challenge seems like a good month to see how many miles we can compile as a group. It is also a great challenge month because the weather is still great, and you may need a little kick if you're not running a fall marathon.
If you'll recall from our last challenge in May, we piled on with 6,090 miles. This month, lets shoot for 7,500! Sometimes, it's those little extra bits of motivation that will help turn a lousy month, it's a pretty good one. Last month was pretty low for me, so I'm using September to get back in the swing of things.
Etchrock
Once again, we're going to use the Etchrock platform. Unfortunately (or fortunately, depending on your perspective), they are in the middle of some big upgrades, so some of the formatting, and images are a little off at the moment.
One of the lead developers emailed me a few days ago, to share what they are working on (as tell me they are working around the clock). Here are some of the features they are implementing (literally as we speak);
Social icons to allow sharing of challenge (including when a user joins the challenge)
Ability to link to ticket sales
Prizes (allows organizers to offer prizes, with links to terms and conditions)
Dynamic leader board table, allowing search for users names.
Comments displayed under posts
Notifications for user. Allowing users to be notified of likes, comments etc.
Google maps integration. Enabling organizers to place locations of live challenges
Ability to be able to share posts
Further Facebook and twitter integration
How to Participate in the September Challenge
View the challenge here and click "Participate" to join. If you're not already registered, you can signup. Note: It may not direct you back to our challenge, so just click here again once registered and logged in.
When you run (or you can do it every few days or once a week), simply enter your info in the "Leave you Mark" section. From there, click on the icon that looks like a little stop watch .
Enter your miles, leave a note, and you can even share some pics from a recent run.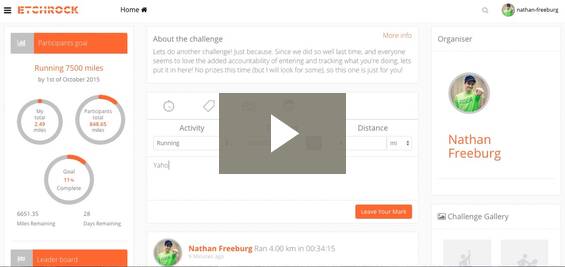 As before, if you find a bug, or something isn't working quite right, let me know and I see if I know what's going on, or email the developers.